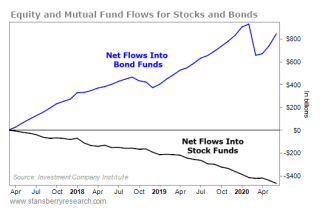 It's All About Relative Value
We ended off last month's newsletter with an idea that the stock market could move higher, and that it's all about relative value. Today we're going to explore that concept further. 

With today's market, one of the major factors is interest rates. Interest rates have created a tremendous rise in housing prices, and it could do the same thing for stocks, despite the rally we've seen since March.

Think about it like this: You earn about 0% with your money in the bank. But stocks at a price-to-earnings (P/E) ratio of 20 (20-to-1) have an "earnings yield" (E/P) ratio of 5% (that's 1-to-20).

Effectively, when you buy a stock at a P/E of 20, you are buying an earnings yield of 5%. Compare that to earning 0% in the bank, or 0.56% from a 10yr Canadian government bond. 

As you can see, earnings yield is a great way to measure the value of stocks while keeping interest rates in mind. And it shows that stocks are a great value right now, relative to other assets. Even if stocks doubled in value to a P/E of 40, then the earnings yield would be 2.5%, which is still decent compared to other investments.

Some of the researchers that we pay attention to like to promote the investment philosophy of buying investments that are cheap, hated, and in an uptrend. The earnings yield shows us that stocks aren't expensive, and... I probably don't have to tell you that we've been in an uptrend in stocks since March.

But do investors hate stocks?

Of course with the wild swings in the market more investors have been talking about the market this year. All the volatility which we've discussed in previous newsletters have gotten people's attention. You've probably heard about the retail investors betting on high flying growth stocks. It may feel like more investors are buying in - which would be great for a big melt up in the stock market. But what does the data say?

A melt up is the last major push of a major stock market boom where the biggest gains tend to be had. People fall in love with stocks and buy up individual stocks and stock funds in a crazy way. But this isn't happening yet. (See the chart below.)



Since 2017 we've seen more and more money flowing out of stock funds (ETF & Mutual Funds) and into bond funds, to the tune of 800 billion. This is not typically how the end of a bull market looks. 

Lots of folks get hung up on the fact that stocks are making new highs. They are unwilling or unable to accept the value stocks offer relative to bonds or money in the bank. Stocks are a good deal today, and the chart shows they're hated too.

This may prove to be a recipe for higher prices in the years ahead. Stay invested.

Best Regards,



Jonathan Adomait
Financial Advisor, BASc

P.S - Have questions or want us to discuss a particular topic? Let us know by sharing your feedback!