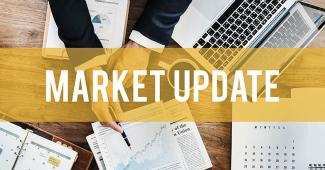 Before we do a market update, I wanted to share some quick administrative changes.

First, the office toll free phone line (866)-837-0101 will no longer be active. As most long distance meetings are done online/virtually, this feature was very rarely used. If you wish to call the office directly, please continue using the 905-628-1349 number.

Second, we have a new member joining our team! Kevin Baldwin has been hired to take over most administrative functions, so next time you call there is a good chance you will have Kevin warmly greeting you. Kevin has worked for 30 years at a large insurance firm, and is looking forward to providing a great client experience for you. To read more about Kevin, click here.

Now, onto the market update...

Lingering inflation, tightening central bank policy, high oil prices and geopolitical tensions remained top of mind for investors in May. Here's a summary of the notable events that steered the markets.

Market developments
After seven straight weeks of collective declines, U.S., Canadian and global equities rebounded in the last week of May, with the S&P500 Index in particular notching its best results since November 2020.
U.S. and Canadian bond yields continued to rise, but at a slower pace than previous months, possibly indicating the current pullback captures most of the downside and markets are beginning to stabilize.
Like recent months, tech stocks and cryptos were a drag on U.S. markets and spilled over globally, however, in Canada a raft of big banks and insurers posted strong earnings and increased dividends.
Oil hit a two-month high, mainly due to sanctions on Russian imports and China ending its COVID-19 lockdown. Saudi oil giant Aramco also eclipsed Apple as the world's most valuable company.
There were a number of positive North American economic indicators during the month. The jobless rate in the U.S. and Canada remained low, U.S. retail sales grew and Canadian housing prices cooled.
The G7 finance ministers met in Germany and agreed to work closely to combat inflation, monitor markets and exchange rates given recent volatility as well as called for faster crypto regulations.
Australia's central bank raised rates for the first time in a decade while the Bank of England hiked rates for the fourth time since December 2021, after U.K. inflation rose to 9%, the highest in the G7.
U.S. inflation moderated from 8.5% to 8.3%, breaking a seven month streak of monthly increases, which President Biden called "heartening". However, both food and energy prices continued to spike. As Fed chair Powell indicated last month, the Fed hiked rates by 0.50%, at its May meeting, the biggest hike since 2000. Powell said the Fed is determined to "keep pushing" until inflation comes down. Powell also confirmed the Fed will begin shrinking its asset portfolio of bond holdings in June.
Canadian inflation increased fractionally, from 6.7% to 6.8%, though still a 31-year high, mainly due to food prices. Statistics Canada reported the cost of most groceries rose including fruit, vegetables, meat and grains. The Bank of Canada took a rare step of providing interest rate guidance. After raising rates 50 basis points in April, the bank raised another 0.5% hike at its June 1 meeting.
How does this affect my investments?

This year has been a bumpy ride so far as we've experienced a market correction with valuations repriced for higher interest rates. Despite the volatility, there is a silver lining. Although still stubbornly high, the early signs are inflation is peaking and will likely ease gradually in the second half of 2022. 

Economic fundamentals such as consumer demand, wage growth, the job market and corporate earnings remain healthy. It will take time to recoup recent losses but investors should feel optimistic over the long-term. Rest assured the portfolio managers looking after your investments are managing risk during this time, and increasing their allocations to their highest conviction companies. 

Regardless of where we are in the market cycle, stay focused on your long-term financial goals. This strategy helps you keep your emotions out of investing, typically buying high and selling low like many investors do. 

We are here to support you in achieving your financial goals. Please do not hesitate to contact us.
Until next month,

Jon



Jonathan Adomait
Financial Advisor | CFP, B.Eng