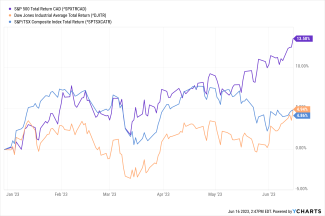 Back in October of last year, it was hard to be positive. The market felt as though it would never stop going down, and this was the consensus among investors. I made two points in my newsletter for the month - which you can Read Here:  

1. With sell offs in the equity and bond market as large as they were last year, historically, positive returns follow. 
2. When investors are as pessimistic on the markets as they were in October of last year, the market usually moves higher.

So far this year we have witnessed these two points unfold. Stock markets globally have been rebounding from last year, and although the losses from 2022 have not yet been fully recovered, the trend has been in the right direction. (See chart below)


To start off the year, the S&P500 is up 13.58%, the Dow Jones Industrial Average is up 4.94%, and the S&P/TSX Composite is up 4.86%. (As of June 15th, 2023)

The YTD returns of the benchmark S&P 500 index, representing 500 of the largest U.S. publicly traded companies, have been strong, indicating positive market sentiment. However, it is important to assess market breadth, which refers to the number of stocks participating in the overall market rally. Of the recent 28% decline for the S&P500 capitalization weighted index (companies weighted by their size), the market has retraced 63% of its decline, while the equal weighted index has only retraced 39%. What this means is that the majority of the large companies in the index have been the stocks to move the most. At the end of Q1 this year, the 10 largest companies in the S&P500 accounted for over 90% of the total stock market gains!

Source: https://www.nasdaq.com/articles/top-10-names-in-sp-500-responsible-for-90-of-q1-gains

In order to see a more sustainable market rally we need more companies participating in the upwards trend, and currently the equal weighted index is stuck in the middle of a 12 month trading range. 



Source: Fidelity Investments

Could we see a breakout of the equal weighted index soon? It's entirely possible. Jurrien Timmer, Head of Global Macro at Fidelity, says this, "With earnings estimates getting less bad and the Fed nearing the end of the rate cycle, it makes sense that equities are finding themselves on a better footing. Remember, the market's central trend is +10% per year, and it has historically gone up 60-70% of the time."



Source: Fidelity Investments

The chart above shows the historically the S&P500 is just slightly above it's long term trend. Even if we are looking ahead to average market returns, that's not bad at all. Sometimes it helps to zoom out and look at the bigger picture. The rest is just noise.
Talk soon,

Jon



Jonathan Adomait
Financial Advisor | CFP, B.Eng